The Preliminary Pages
Abstract
Editorial Note
The Journal of the Nigerian Languages Project (JNLP) is a journal of the Nigerian Languages Project (NLP), housed in the Department of Linguistics and Nigerian Languages, University of Uyo, Uyo, Akwa Ibom State. It addresses issues in Nigerian languages, linguistics, and literature. In this 4 th edition, we offer six articles addressing cognitive studies, language documentation, socio-semantic, phonological studies, folklore, and syntax.
The first article, 'The cultural conceptualization of jini "blood" in Hausa', by Ahmadu Shehu, analyses linguistic expressions that provide evidence in support of the embodied metaphors and metonymies of the body part term jini 'blood' in the Hausa language from a cultural conceptualization perspective. The second article, 'Honorifics and humilifics in Ngwa-Igbo: A socio-semantic analysis', by Nneoma Ugorji, provides a typology of honorifics and humilifics in Ngwa-Igbo and goes further to demonstrate their socio-semantic importance in Ngwaland. In the second paper, God'spower Etim, describes some phonological processes found in Ọrọ compounds, from a moraic perspective. 
Nnameti John Ekpo, in the fourth paper, deals with language use in Anaañ women's marital playsongs. The fifth paper, 'Partnership in indigenous language documentation and advocacy: Experience from the Abureni language project', adopts a functional framework to analyze the tasks, processes, deliverables, and challenges, recorded on a language documentation project. Emmanuel Paul, Daniami Etire, Samuel Edoghotu, Olaguokare Ibote & Emmanuel Tamuno Obolo present their experience in the Abureni Language project from a participatory perspective. Ekah, in the 6th paper, presents a comparative analysis of reflexivisation in English and Ibibio to provide support for Ibibio learners of English in this aspect of English grammar.
This is the package we are presenting in this volume. We thank you for your interest in the Journal of the Nigerian Languages Project.
The Editors 
Table of Contents
The cultural conceptualization of jini 'blood' in Hausa
Ahmadu Shehu................................................................................................................ 3
Honorifics and humilifics in Ngwa-Igbo: A socio-semantic analysis
Nneoma Fyne Ugorji..................................................................................................... 20
Phonological processes in Ọrọ compound nouns
God'spower Etim .......................................................................................................... 45
Language use in Anaañ women's marital play songs
Nnameti John Ekpo........................................................................................................ 58
Partnership in indigenous language documentation and advocacy:
Experience from the Abureni Language Project
Emmanuel Paul, Daniami Etire, Samuel Edoghotu, Olaguokare Ibote &
Emmanuel Obolo .......................................................................................................... 69
A comparative analysis of reflexivisation in English and Ibibio
Maria-Helen Ekah ......................................................................................................... 93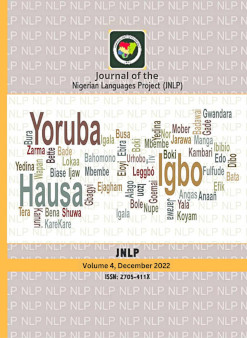 Downloads
How to Cite
JNLP. (2022). The Preliminary Pages. Journal of the Nigerian Languages Project, 4, 1–2. Retrieved from https://jnlp.com.ng/index.php/home/article/view/35